Naturpac is leading the Australian and New Zealand Markets for ethical packaging, including recyclable, biodegradable and compostable packaging solutions, including fresh produce labels from Sinclair EcoLabel.
As a world we are obligated to reduce plastics consumption and to find alternatives. Naturpac is working with the world's leading innovators to offer choices that are recyclable, biodegradable, and ultimately compostable.
Our brand defines the benchmark for these across three tiers. And its accompanying seal of approval gives consumers peace of mind that they are choosing packaging For a Better Earth.
Here are Naturpac we are delighted to include the fresh produce labels by Sinclair EcoLabel in our Gold Standard packaging range.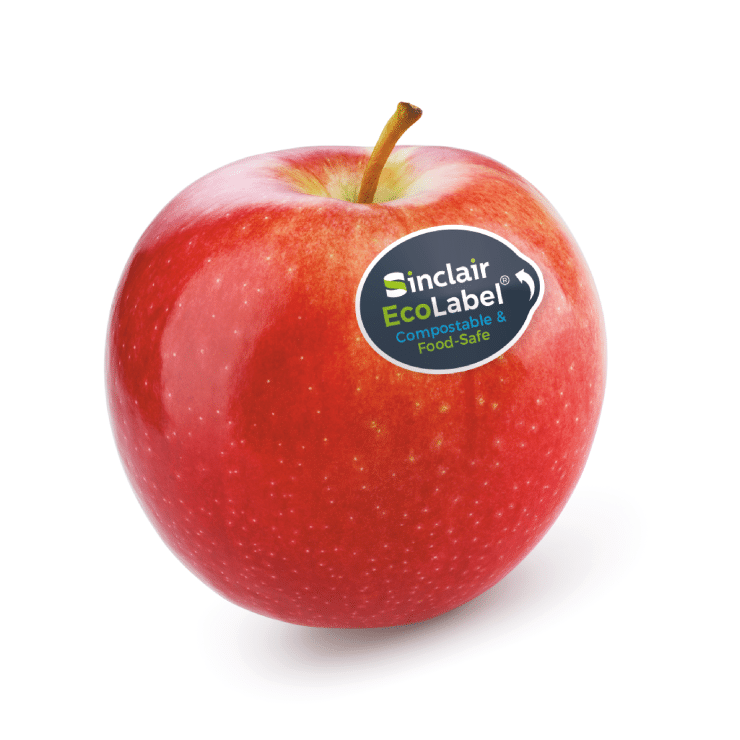 About Sinclair EcoLabel:
Sinclair EcoLabel® are food-safe, certified compostable fresh produce labels perfect for Apples. Apricots, Kiwi Fruit, Necatarines, Pears, Plums and Stone Fruit.
The entire label construction meets EN 13432 standard for compostable and biodegradable packaging and is independently certified by TÜV Austria under OK compost – Industrial and Seedling certifications.
All Sinclair fresh produce labels are made from food-safe materials and are supplied on Sinclair EcoLiner® backing paper, which is certified compostable, meeting EN 13432 requirements and holding certifications for OK compost — Industrial & Seedling.
Product features:
Fully compostable label – face stock, inks and adhesive meet internationally recognised standard EN 13432: 2000
Independently certified by TÜV Austria under OK compost and Seedling certification
Designed for automated, high-speed, tray, compact pattern and on-line machine application.
Excellent conformity and labelling performance
Available in a wide variety of shapes and sizes
Removes without leaving adhesive residue
Meets FDA and EU food-safety requirements
FAQ's:
You say that the Sinclair EcoLabel® – T46/T49 is certified compostable and meets industrial composting requirements of EN 13432. What does this mean?
EN 13432 is a European standard for compostable and biodegradable packaging. To meet this standard there are 4 different tests that need to be conducted by an accredited third party:
Heavy metal & fluorine analysis
Biodegradation
Disintegration
Plant toxicity analysis
Sinclair EcoLabel® has passed all of these tests. The test results have been provided to TÜV Austria for independent verification and Sinclair EcoLabel® – T46/T49 has been awarded 'OK compost INDUSTRIAL' and 'Seedling' certification
Is there a difference between compostable and biodegradable products?
Yes. Compostable products by definition are biodegradable. However, compostable products must also break down, or become part of usable, soil-enhancing compost in a safe and timely manner in an appropriate composting facility or home compost pile. Composting is a form of recycling.

Biodegradable products must return to nature, disintegrating or disappearing completely. A biodegradable product may be broken down by microorganisms, but this does not necessarily imply that the product can be converted into a soil-nurturing compost. This disintegration is not bound by time and does not need to enhance quality. Metallic or toxic residue from materials is often released in the return-to-nature process and is still considered part of biodegradation.
Is Sinclair EcoLabel® – T46/T49 food-safe?
Like all Sinclair products, food safety and quality are our highest priority. The label material and
adhesive we use in Sinclair EcoLabel® – T46/T49 is compliant with relevant FDA and EU food contact legislation and presents no risk to human health, even if inadvertently consumed.
Is Sinclair EcoLabel® – T46/T49 home compostable?
No, but they are compostable via a industrial composting plant. You will need to check your region to find your nearest industrial composting service.

If you are looking for a home compostable label Sinclair EcoLabel HOME™ is available from our product range. It is a bio-based, plastic free, sustainable fruit sticker.
Are Sinclair EcoLabel® – T46/T49 inks certified compostable?
Sinclair EcoLabel® – T46/T49 is printed with UV cured, four colour process inks that were specifically formulated to ensure printed labels meet composting and food safety requirements. The Eco Inks comply with the EuPIA Exclusion Policy and are Benzophenone, ITX, and BDK free
About Sinclair:
In the beginning
More than three decades ago, when Sinclair was founded in Norwich, England, the majority of produce branding was on the box. Individual fruits and vegetables had no identity. They decided it was time to give fruits and vegetables the branding they deserve. As a result, Sinclair pioneered the development of patented technology in automatic high-speed fruit-labelling systems for individual pieces of fresh produce — often running at 12 fruit per second.
A presence today
Today, Sinclair deliver a comprehensive offering of food-safe fresh produce labels and labelling equipment that enable packers and shippers to showcase their brand identity and differentiate themselves. Based in Fresno, California, and Norwich, England, Sinclair now has 9 label-manufacturing sites around the world with labelling systems installed in more than 45 countries worldwide. Sinclair's fresh produce labels are unsurpassed, comprised of micro-thin material that is food-safe and complies with requirements of the U.S. Food and Drug Administration (FDA) and the European Union (EU).
A pulse on tomorrow
With a portfolio of more than 79 issued patents, Sinclair take pride in product excellence. They pioneered fresh produce labelling and commercialised many product innovations such as Sinclair Tab-Lift®, Sinclair Peel & Reveal®, Sinclair Print on Demand®, the Sinclair Compact Pattern Labeller™, and the groundbreaking RM6 with its game-changing rotary head and bellows label application system. Furthermore, Sinclair technical service is recognised as a leader in providing support, consultative technical advice and analysis for optimal labelling efficiency.
Innovation is at the core of Sinclair's business and they have been pioneering sustainable, food-safe fresh produce label solutions since the 2000's. They offer the widest range of eco-friendly fresh produce labels designed for automated, high-speed application and to perform in the challenging packinghouse environment.
Eco-Friendly Performance
Label performance is paramount to Sinclair. From initial application, to cold-store, through supply chain, to the retailers' shelves and on disposal by consumers. Sinclair compostable fresh produce label solutions are all 'OK compost' certified so you can trust end-of-life eco-friendly performance.
Leadership & Quality
Sinclair have been pioneering fresh produce labels for automated, high-speed applications to the highest quality standards since 1982. Their teams manage label design and label production using state-of-the-art printing facilities in-house to ensure full control of the process and quality.
A Gold Standard Product:
Here in Australia, the Naturpac Gold Standard is the goal. Long term we must strive for compostable solutions. Sinclair EcoLabel fresh produce labels are part of Naturpacs Gold Standard packaging range, which meets the following assessment criteria:
Truly Compostable:
Naturpac works with all industry governing bodies to ensure not only the products in its range adhere to mandates, but also that we are constantly striving to refine and improve these mandates.
Supply Chain Compatibility:
J-Tech Systems and Naturpac have over 50 years of expertise in supply packaging provision. Naturpac lines are selected based on how non disruptive and collaborative their introduction can be.
For a better earth:
Above all else, every line that is introduced into the Naturpac range must support a common goal. It must be For a Better Earth. The materials, processes, producers and partners must all be working to this common goal.
Want to learn more about Naturpac?
Naturpac are an eco friendly packaging company in NSW, Australia created by J-Tech Systems to bring a new level of farm produce sustainable packaging to the fresh produce industry. Environmental packaging and sustainable produce packaging are Naturpac's specialty with a focus on recycled packaging, recyclable packaging, biodegradable packaging and compostable packaging. They are passionate about sustainability education, especially sustainability education in schools and for children to help young consumers of today shape the world for tomorrow.
Naturpac offer a broad range of fresh produce packaging supplies that are environmentally friendly. If you are in the fresh produce industry check out their range of The Paper People, Netpack, Earthcycle, Infia and Stepac.