Naturpac is leading the Australian and New Zealand Markets for ethical packaging, including recyclable, biodegradable and compostable packaging solutions.
As a world we are obligated to reduce plastics consumption and to find alternatives. Naturpac is working with the world's leading innovators to offer choices that are recyclable, biodegradable, and ultimately compostable.
Our brand defines the benchmark for these across three tiers. And its accompanying seal of approval gives consumers peace of mind that they are choosing packaging For a Better Earth.
Here are Naturpac we are delighted to include Netpak Polyethylene Netting in our Bronze Standard packaging range.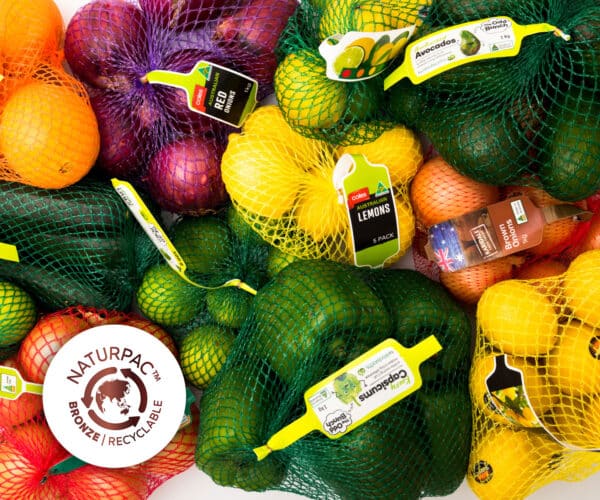 About Netpak Polyethylene Netting:
Netpak Polyethylene Netting offers a comprehensive solution with its range of options, presenting both Woven Net and Extruded Net variations to cater to diverse packaging needs. This innovative netting proves to be an indispensable asset when it comes to safeguarding a plethora of produce, including but not limited to apples, apricots, avocados, capsicum, kiwifruit, lemons, limes, nectarines, plums, and potatoes.
At its core, the configuration of this remarkable product entails a meticulously designed tubular net, crafted to accommodate the packaging requirements of an extensive array of fruits and vegetables. The remarkable versatility and user-friendly nature that underscore these netting solutions are the direct outcomes of a rigorous process of technical exploration, research, development and refinement.
The nets within the Netpak Polyethylene Netting portfolio transcends the boundaries of fruit and vegetables, opening up a world of possibilities for packaging an assorted range of items. These nets, thoughtfully provided in rolls of varying tubular diameters, each possessing unique stretch capabilities, mesh sizes, and an assortment of vibrant colours, are designed to cater to a wide spectrum of packaging scenarios. This diversity in options ensures that packaging requirements, whether they involve delicate fruits or hardy vegetables, can be met with precision and excellence.
Benefits of Netpak Woven Net at a Glance:
Available in any colour and can be matched for special orders
Red, Green, Yellow, Purple and Orange colours are always in stock at all times
Woven net reduces the amount of packaging and environmental impact
Can be recycled through the REDcycle recovery programme
Polyethylene (PE)
More about Netpak Woven Net:
The exceptional quality of Woven Net not only impeccably showcases farm-fresh produce but also brings an additional layer of positive impact – it's an eco-conscious choice, fully recyclable through the esteemed REDcycle initiative. Embracing this netting solution translates into a win-win situation for both your business and the environment, a truly heartening development!
Fabricated from robust polyethylene (PE), our Woven Netting is meticulously packaged in secure, food-safe square bales, each boasting a generous length of 1,350 meters. This design ensures compatibility with an extensive array of produce, spanning a delightful spectrum of varieties. Furthermore, these square bales, not only embody practicality but also offer the flexibility to be intricately colour-matched to seamlessly align with your unique brand identity, packer preferences, or specific retailer requisites.
At the forefront of sustainability, our commitment shines through with all our netting materials proudly bearing the distinguished Naturpac™ Bronze approval, endorsing their readiness for recycling within the esteemed REDcycle program. This certification underscores our dedication to championing eco-friendly practices and reinforces the integrity of our products.
The colour palette at your disposal is virtually limitless, extending to every hue imaginable. Additionally, the standard colour options of Red, Green, Yellow, Purple, and Orange are steadfastly stocked, ensuring prompt availability. This diverse range is further fortified by the knowledge that Woven Net, aside from its visual allure, contributes tangibly to minimising excessive packaging and mitigating environmental ramifications. By opting for Woven Net, you actively participate in a cyclical process of sustainable packaging and responsible consumption.
As a testament to our commitment to sustainability, Woven Net seamlessly integrates into the REDcycle recovery program, facilitating its recycling journey and amplifying its positive environmental contribution.
Woven Net transcends the ordinary by fostering an immersive visual experience while harmoniously embracing the principles of ecological responsibility. Its adaptability, recyclability, and colour versatility coalesce to form an exceptional packaging solution that embodies your commitment to both premium quality and environmental mindfulness.
Benefits of Netpak Extruded Net at a Glance:
Available in any colour and can be matched for special orders
Orange or red colours are always in stock at all times
Polyethylene (PE)
Variety of tube widths
More about Netpak Extruded Net:
Crafted with precision from durable polyethylene (PE), Extruded Netting presents an innovative solution primed to accommodate an array of packaging requirements. Its inherent adaptability shines through in the assortment of tube widths tailored to various produce types, ensuring a seamless fit for your diverse needs. Each roll of this netting boasts an extensive length of 650 metres, affording ample material to support your packaging endeavours. Moreover, the flexibility to intricately colour match Extruded Netting according to the specific preferences of packers or retailers underscores its versatility and customisation potential.
A testament to our unwavering commitment to sustainability, all of our netting materials proudly bear the esteemed Naturpac™ Bronze certification, affirming their compatibility with the esteemed REDcycle program. This resounding endorsement underscores the integrity of our netting materials and reflects our dedication to eco-friendly practices.
The colour palette at your disposal is virtually boundless, allowing for a harmonious alignment with your branding or packaging vision. Additionally, our well-stocked inventory ensures that vibrant Orange and dynamic Red hues remain readily available for prompt fulfillment of your packaging needs. This array of options guarantees that your packaging not only preserves the visual allure of your produce but also contributes to a memorable and impactful presentation.
Extruded Netting's adaptability is further elevated by the diverse selection of tube widths, affording you the freedom to tailor your packaging to the unique characteristics of each produce type. This level of precision and attention to detail ensures that your packaging not only maintains the aesthetic appeal of your products but also safeguards their quality during transit and display.
Extruded Netting stands as a testament to our dedication to innovation, sustainability, and customisation. Its polyethylene composition, extensive roll lengths, colour diversity, and array of tube widths collectively position it as a versatile and indispensable asset in your packaging arsenal. By opting for Extruded Netting, you are not only investing in a high-quality packaging solution but also actively participating in the larger movement towards responsible and eco-conscious packaging practices.
A Bronze Standard product:
Here in Australia, the Naturpac Bronze Standard includes an industry leading range of recyclable alternative packaging options. Netpak polyethylene netting is part of Naturpacs Bronze Standard packaging range, which meets the following assessment criteria:
Truly Recyclable:
Naturpac works with all industry governing bodies to ensure not only the products in its range adhere to mandates, but also that we are constantly striving to refine and improve these mandates.
Supply Chain Compatibility:
J-Tech Systems and Naturpac have over 50 years of expertise in supply packaging provision. Naturpac lines are selected based on how non disruptive and collaborative their introduction can be.
For a better earth:
Above all else, every line that is introduced into the Naturpac range must support a common goal. It must be For a Better Earth. The materials, processes, producers and partners must all be working to this common goal.
Want to learn more about Naturpac?
Naturpac are an eco friendly packaging company in NSW, Australia created by J-Tech Systems to bring a new level of fruit and vegetable produce sustainable packaging to the fresh produce industry. Environmental packaging and sustainable produce packaging are Naturpac's specialty with a focus on recycled fruit packaging, recyclable fruit packaging, biodegradable fruit packaging and compostable fruit packaging. They are passionate about sustainability education, especially sustainability education in schools and for children to help young consumers of today shape the world for tomorrow. 
Naturpac offer a broad range of fresh produce packaging supplies that are environmentally friendly. If you are in the fresh produce industry check out their range of The Paper People, Earthcycle, and Sinclair Ecolabels along with Netpak polyethylene netting.