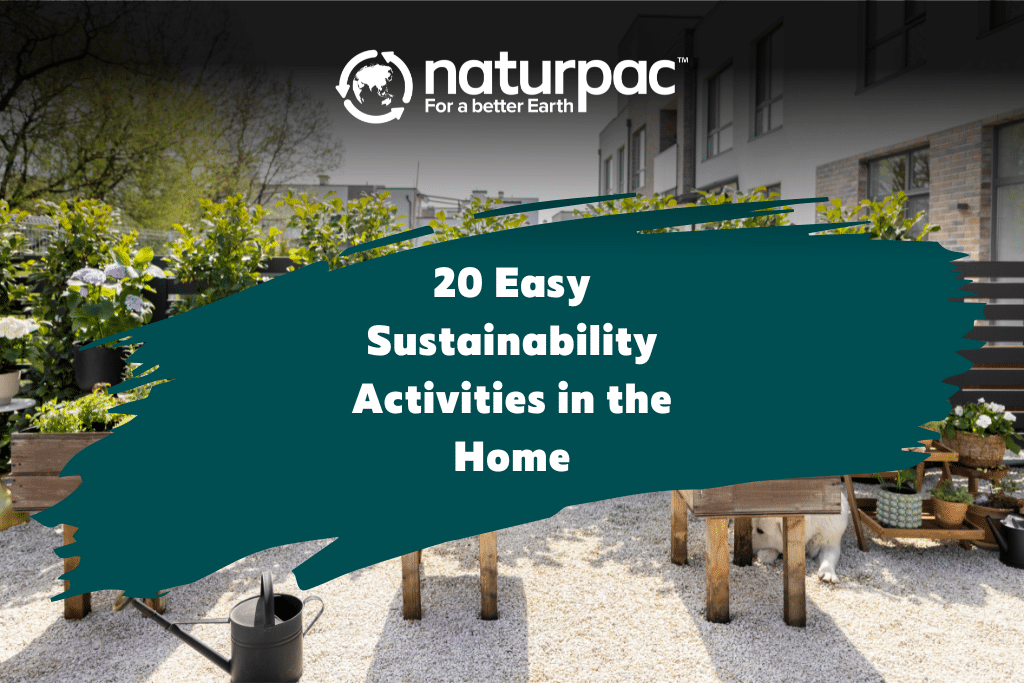 There's never a better time to make eady sustainability changes in your own home. While some practices may be difficult to sustain or complete, others are challenging but are completely doable. Here are the top 20 easy sustainability changes that you and your family can adapt in your home and are good not only for you but for the environment as well:
#1. Start a garden.
Contrary to popular belief, you don't need acres of land to start a garden. Gardens can be created in small homes or even apartments with just a few pots and bags of soil. For those who don't have a green thumb, here are some of the easiest produce to grow:
Tomatoes
Lettuce
Ginger
Turmeric
Green beans
Peas
Chili peppers
Cucumbers
Capsicums
Potatoes
Not only will you feel the satisfaction of growing your own food, it will save you a lot of money (and of course taste much better also). It is also a super simple way to make easy sustainability changes in the home.
#2. Take a break from social media.
While social media can be a great source of information and entertainment, it also has a dark side: a recent study found that social media envy could increase feelings of anxiety and depression in individuals.
Here are a few potential benefits of taking a social media break:
Better sleep
Eases anxiety
Reduces stress
Improves mental well-being
Here are a few popular ways to take a break from social media:
Limit use of social media to 30 minutes per day
Temporarily delete apps or remove notifications
Avoid negative topics or conversations
#3. Create a self-care routine.
Sustainablility starts with you. And often overlooked one way of committing to easy sustainability changes is to out yourself first. The only person who can truly take care of you is you. Here are some of the most popular self-care routines:
Drink a glass of water when you wake up. This helps to hydrate the body and can promote feelings of fullness.
Get 30 minutes of exercise 3-4 times per week. Exercise can range from a leisurely walk in the park to a high intensity crossfit class. The body is not designed to sit, it's designed to move. The exercise you choose is up to you.
Meditate for 10-30 minutes daily.
Say "no" from time to time.
Get 7-8 hours of sleep per night.
Remove the clutter: clean your home, office, car, etc.
Eat healthier foods daily. Eat more fruits and veggies and limit sweets to one serving per day.
#4. Use less plastic.
This is an excellent way to help protect the environment and a great way of committing to easy sustainability changes. Plastic is everywhere and there are many ways to eliminate their use. Using reusable bags for groceries is a great start. Another option is to limit use of single use plastics including plastic water bottles, takeaway coffee cups and straws.
#5. Use renewable batteries.
Every year, billions of dry-cell batteries are used to power watches, laptop computers, power tools, toys and cell phones. Many batteries contain lead, cadmium, nickel, mercury, and other heavy metals that can be harmful to the environment if not disposed of properly. An option is to use rechargeable batteries instead: over their life, one rechargeable batteries could replace hundreds of single-use batteries.
#6. Reduce electricity consumption.
Another way to implement easy sustainability changes is to simply turn items off or unplug them when they're not in use. This would include computers, televisions, lamps and all other electronic devices around your home. Plugging your devices into smart power strips can help save money on energy bills. Another option is to use solar generators to power your electronics and appliances.
#7. Hang dry your laundry.
Who doesn't love a free way of implementing easy sustainability changes. This one you can make at home, and is another great way to save electricity and conserve energy. In the warmer months, hanging clothes outside is an excellent way to not only reduce energy consumption but to also get some fresh air and a dose of much-needed vitamin D.
#8. Decrease use of paper towels.
It is estimated over 5 million kilograms of paper towels are used annually. Instead of using these paper products, use cloth napkins, tea-towels or cut up old rags and t-shirts instead. Cutting out just one roll of paper towels per week helps towards making easy sustainability changes in your home.
#9. Use natural-cleaning products.
Instead of using cleaning products that contain hazardous chemicals, opt for natural cleaning products instead.
Here are some of the worst household cleaners that you should try and avoid and some eco-friendly household products you can try and use as an alternative instead:
| | |
| --- | --- |
| Dangerous Household Chemicals | Top Eco-Friendly Household Chemicals |
| Ammonia | Citric acid |
| Bleach | Lemon juice |
| Carpet upholstery shampoo | Castille soap |
| Dishwasher detergents | White vinegar |
| Air fresheners | Thymol |
| Oven cleaners | Baking soda |
| Antibacterial cleaners | Essential oils (lavender, orange, peppermint, eucalyptus, etc.) |
#10. Reduce time spent in the shower.
We are seeing water shortages all around the world, and taking shorter showers can help save water. It is estimated that just one minute shaved off our shower could save more than 3000 litres per year.
#11. Reduce your car emissions.
We know reduing emissions is critical, however does it fall into easy sustainability changes? It really, isn't as difficult as you might think. The following simple tips can help reduce your vehicle's emissions, which in turn helps the environment:
Keep tire pressure at proper levels
Don't let your car idle for more than a few minutes
Keep up to date on regular maintenance services (tune-up, oil change, etc.)
#12. Don't waste food.
According to the UNEP, It is estimated that 931 million tonnes of food is wasted each year. Thanks to a combination of higher food prices and food shortages, its critical we don't waste food. Eating leftovers is a great way to reduce waste. If leftovers aren't your thing, cook less and prepare only what you know you and your family will eat.
#13. Cut back on driving.
In addition to saving emissions, reduced driving means less spent on rising petrol prices. If possible, opt for taking public transport or carpooling with friends. Riding a bike, walking or scooting is fun and not only saves money, but it is also great exercise for the whole family too and one of the easy sustainability changes you can strive to make together.
#14. Exercise outdoors.
While any type of exercise is good, exercising outdoors has many surprising benefits:
Indoor air can be up to 100 times more polluted than outdoor air.
Exercising outdoors provides you with fresh air, sunshine and vitamin D, which helps boost the immune system.
Being outdoors in nature can help reduce stress and increase feelings of relaxation and happiness.
#15. Recycle.
Many neighbourhood Councils encourage recycling, making it one of the easiest sustainability changes to keep. The most popular products to recycle include the following:
Plastics
Glass
Electronics
Batteries
Aluminum
Cardboard / Paper
#16. Plant a tree.
The best time to plant a tree? 20 years ago. The second-best time to plant a tree? Today. Trees are a gift that can give for years. Aside from the feelings of happiness from planting trees, here are some of the amazing benefits:
Trees help soak up carbon in the atmosphere and provide much-needed oxygen.
Trees provide a natural habitat for a wide range of wildlife.
Fruit trees can provide food for years to come.
#17. Volunteer.
Volunteering is an excellent way to share your precious time, energy, and knowledge with the less fortunate or those in need. Here are some popular ways to volunteer your services:
Offer to babysit
Collect food for a homeless shelter
Volunteer at a nursing home
Mow a neighbours lawn
Assist an elderly neighbour or family member with household chores
Volunteer at a vet or animal shelter
Volunteer at a local charity Op Shop
Just one hour of your time can have a huge impact on someone's life.
#18. Spread positivity on social media.
There's a lot of negativity on social media. Instead of adding fuel to the fire, share posts and pictures that inspire, make people laugh, or are informative.
#19. Increase quality time spent with friends and family.
Spending time with loved ones can help to relieve stress and ease feelings of loneliness. Here are a few other surprising benefits of spending time with loved ones:
Increased lifespan
A sense of belonging
Improved self-esteem
Improved mental health
Better choices/decisions
Remember: quality over quantity. Make sure to surround yourself with positive people. The company you keep can have a tremendous impact on your life.
#20. Don't be afraid to ask for help.
This is very important. Too many of us will struggle along when simply asking for assistance can ease the burden dramatically. If you're feeling sad, overwhelmed, or upset, don't keep it to yourself. Your true friends and/or family will want to help you through the tough times. In some instances, a therapist may be a viable option. Keeping these feelings bottled up can do more harm than good. Don't be afraid to speak up!
Setting goals or resolutions to make change can be a fun, yet challenging task. Try some of the above. You might be pleasantly surprised at the results!
Want to learn more about Naturpac?
Naturpac are an eco friendly packaging company in NSW, Australia created by J-Tech Systems to bring a new level of farm produce sustainable packaging to the fresh produce industry. Environmental packaging and sustainable produce packaging are Naturpac's specialty with a focus on recycled packaging, recyclable packaging, biodegradable packaging and compostable packaging. They are passionate about sustainability education, especially sustainability education in schools and for children to help young consumers of today shape the world for tomorrow.
Naturpac offer a broad range of fresh produce packaging supplies that are environmentally friendly. If you are in the fresh produce industry check out their range of The Paper People, Netpak, Earthcycle, Infia and Stepac along with Sinclair Ecolabels.
If you are a parent, teacher or community organisation wanting to learn more about the EcoChoice or Ecoplay education sessions reach out to the friendly team at Naturpac. We offer sustainability education throughout the school holidays and have a variety of at home kids activities or indoor activities for kids that will teach them how to make sustainable choices in their future for a better earth via our FREE online learning platform.