APCO Targets are fast upon us. And Naturpac are on a mission to shape a future where sustainable packaging is not just an aspiration, but a reality.
In the not-so-distant future, a significant transformation is set to reshape the way Australia packages its fresh produce. In fact, it is already well underway and has been for several years. The question is: Are you ready to adopt the changes needed to make your fresh produce business compliant?
By 2025, a pivotal deadline looms on the horizon: all fresh produce packaging must meet the stringent criteria of being 100% reusable, recyclable, or compostable. In the grand scheme of things, that's less than two years away. It signals a resolute shift in the packaging landscape, where anything failing to meet these sustainability benchmarks will be systematically phased out.
These targets, while audacious, are by no means arbitrary. They represent a crucial step toward environmental responsibility and a sustainable future. It's a monumental challenge, but a necessary one. Frankly, it is why Naturpac exists. We are an organisation dedicated to facilitating this transition, ensuring that it's not only achievable but also advantageous to the growers and packing houses throughout Australia. We stand shoulder-to-shoulder with growers in Australia's diverse regions, empowering them with the knowledge and resources needed to make informed choices about sustainable packaging.
Our commitment extends beyond education, though. At Naturpac, we take pride in our role as a catalyst for change, helping growers seamlessly integrate these sustainable packaging choices into the offerings of retailers nationwide. We understand that the journey toward 100% sustainability in packaging may seem daunting, but we're here to help guide, support, and lead the way.
In this article, we'll explain the significance of APCO Australia's national packaging targets, explore the challenges and opportunities they present for growers, and unveil how Naturpac is making this transition not just feasible, but also cost-effective, and product-protective.
APCO Australia's National Packaging Targets
The 2025 National Packaging Targets are supported by Australian industry and government to deliver a sustainable approach to packaging. They apply to all packaging that is made, used, and sold in Australia. The Australian Packaging Covenant Organisation (APCO) is the organisation charged by government to facilitate the delivery of the 2025 Targets, to be achieved by 31 December 2025.
First established in 2018, the 2025 Targets require a complete and systemic change to the way Australia creates, collects, and recovers product packaging, and are an important step on Australia's journey towards a circular economy for packaging. They were developed following industry and government consultation and are in line with ambitious sustainable packaging initiatives being delivered globally.
The 2025 APCO Targets are:
100% reusable, recyclable or compostable packaging
The first step to achieving a circular economy for packaging is to ensure each item of packaging is able to be reused, recycled or composted.
Current progress towards this Target is strong and APCO Australia is currently undertaking detailed analysis to identify further opportunities for elimination, reduction or redesign.
70% of plastic packaging being recycled or composted
Plastic packaging has some of the lowest recovery rates of any material. This Target seeks to significantly improve the volume of plastic packaging that is successfully recycled or composted.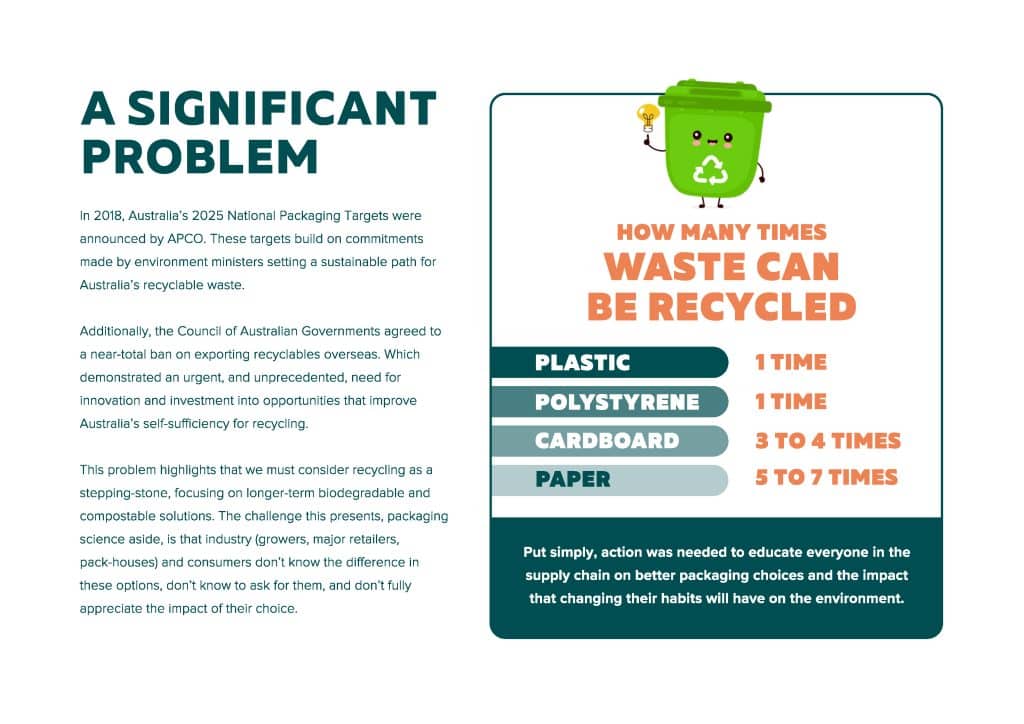 50% of average recycled content included in packaging (revised from 30% in 2020)
Recycling isn't truly complete until packaging is successfully recovered and used again as recycled content, at its highest potential value for as long as possible. Australia is making significant progress towards this Target.
The phase out of problematic and unnecessary single-use plastic packaging
Phasing out problematic and unnecessary single-use plastic packaging is essential to shift our economy and community away from single-use disposable plastic packaging to more durable reusable and recyclable packaging. By tackling these problematic items, we will also reduce packaging consumption, litter and waste, improve the economics of recycling, increase employment, lift recycling rates and help to boost recycled content in packaging.
A range of plastic items have been identified as priority items for phase-out. While some of these items may generally be considered packaging, items such as straws and stirrers, cutlery, plates, cups and bowls are frequently combined with packaging and therefore cannot be excluded from the discussion or approach. 
Who is responsible for delivering the 2025 Apco Targets?
Australia's waste and recycling predicaments do not have a one-size-fits-all solution. The journey towards achieving the 2025 Targets demands collective effort, with each stakeholder having a unique role to fulfil.
Collaboration emerges as the linchpin in turning these ambitious goals into tangible results. APCO Australia's strategy for effecting change, rooted in the powerful Collective Impact Framework, is uniting the entire packaging ecosystem. This includes not only brand owners and industry players but also government bodies, community organisations, and academic institutions, all on a shared voyage towards a more sustainable future.
Some practical steps stakeholders can take to deliver the 2025 Apco Targets
To stay engaged and informed about the journey towards the 2025 Apco Targets, we encourage you to take two vital steps.
STEP 1: Understand the APCO Targets Rules
Delve deeper into the actionable insights provided by APCO Australia in the "Our Packaging Future" document. By downloading this resource from the APCO Australia website, you'll gain a clearer understanding of the pivotal role you can play in bringing these ambitious targets to life. While you are at it, register on the APCO website for regular updates.
STEP 2: Know Where You Stand
Evaluate your current fruit or vegetable packaging in line with the 2025 goals.
If you are using RPET, is it 100% RPET?
If you are using punnets – are they recyclable, biodegradable or compostable?
If any of your packaging is single use, could you replace it?
If you are using mesh / netting – is it made from recycled material or can be easy recycled or composted?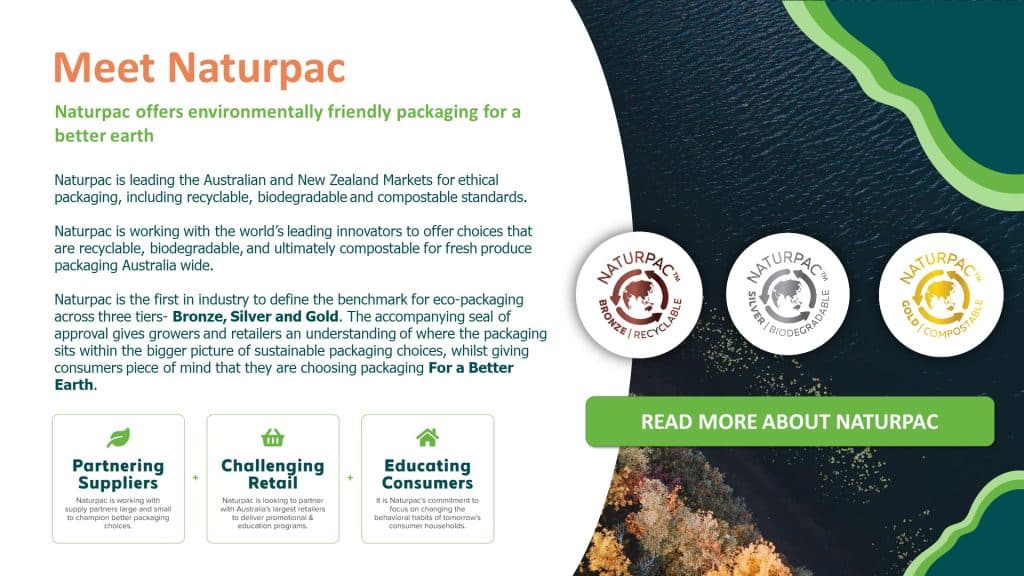 STEP 3: Get Involved & Informed
Join the APCO Membership community: APCO Members have access to resources and tools to help them at every step of improving their packaging sustainability and meeting the 2025 Targets.
Contact a Naturpac representative to find out whether you are compliant
Implement the SPGs and the 10 Sustainable Packaging Principles into your packaging operations.
Take part in the  ANZPAC Plastics Pact  and take tangible action on plastic.
Join an  APCO Working Group.  Get involved or ask your industry association how it is supporting the 2025 Targets.
Mobilise upper management and staff: every business has a role to play in achieving the 2025 Targets, from training and education to involvement in pilot projects.
Supply chain engagement: ask your suppliers what action they are taking to deliver the 2025 Targets. Encourage government and others in your supply chain to purchase recycled content items.
Join the ARL Program and use APCO's resources and messaging to ensure your organisation has a consistent and accurate approach to sustainable packaging communications.
APCO Targets and the Fresh Produce Industry
In the world of fresh produce packaging, this profound shift is underway, driven by the APCO Targets and ever-evolving changes from major retailers. As growers explore the dynamics of this transformation, it's essential to grasp the implications for your fresh produce business, whether a fruit or vegetable grower or part of the fresh produce supply chain, you may not be adequately prepared.
The targets are steering the industry towards 100% reusable, recyclable, or compostable packaging by 2025.
If you are a business unprepared for this change, several consequences may emerge:
Regulatory Challenges
Non-compliance with these sustainability targets could lead to legal ramifications, penalties, and regulatory hurdles for businesses. Some of these occuring at short notice.
Consumer Demand
As consumers increasingly favour eco-conscious choices, businesses that lag behind in sustainable packaging may risk losing market share and customer trust.
Many consumers are turning to produce brands websites to understand their sustainability and traceability. Gone are the days of consumers blindly trusting on shelf claims. They are looking deeper into their brands and produce of choice to know how they are committed to transparency, environmental accountability and long term sustainability.
Operational Costs
Transitioning to sustainable packaging may entail upfront investments, but failing to do so can lead to higher long-term operational costs and decreased competitiveness.
Many growers and packing houses face the potential loss of bulk purchased packaging. Often the retailer specifies produce or on shelf packaging requirements and these options may not align with the APCO Targets. This does not mean the grower will at some stage be impacted when sudden changes require quick action.
The Naturpac team are available for a no obligation consultation to discuss your current packaging, your potential options, your risk profile and ways of minimising future financial impacts. We are in regular communication with all major retailers and can help you plan for upcoming changes that may not be publicly announced.
Supply Chain Impact
A lack of readiness may disrupt supply chains, as many stakeholders, from growers to retailers, align with these new standards.
This could result in crop wastage and unforeseen losses, for produce businesses already operating on minimal margins. Being prepared well ahead of time is the best way to ensure the transition works with your business and crops.
Brand Reputation & Brand Equity
Sustainable practices are intertwined with brand reputation. Businesses that fail to adapt may experience damage to their image, making it harder to attract and retain customers.
Brand equity is not always considered, but there are longer term implications for businesses who have not planned for the impacts of current and future regulations. Ultimately, growers should consider the impacts of the value of their brand equity in future orchard sales, coupled with potential competition from other growers in a strong season. How are you positioned to compete, and how are you ensuring everyone knows this?
Fresh Produce Brand Equity experts Soto Group are highly knowledgable in this area and can provide some strategies to help you improve your brand equity and reputation both now and as you adopt the APCO Targets.
Environmental Consequences
The ecological footprint of packaging extends far beyond the business realm. Unpreparedness may contribute to increased waste and environmental degradation.
It is evident that the shifting landscape of fresh produce packaging presents both challenges and opportunities. Businesses that proactively adapt to these changes stand to benefit from reduced environmental impact, enhanced brand reputation, and greater long-term competitiveness. Preparing for this transition is not just a necessity; it's a strategic advantage in a world where sustainability is paramount.
Progress to 2025 APCO Targets
Annually, APCO Australia diligently compiles benchmark data to gauge Australia's advancement in the direction of the 2025 Targets.
While it is unlikely and unfortunate that the Targets will be met by the deadline, it is imperative that businesses still persist in their pursuit of these sustainability objectives. The 2025 Targets serve as a crucial milestone in the journey toward a circular economy for packaging, necessitating unwavering dedication and collaborative efforts from industry stakeholders, government entities, and the wider community.
Remarkable headway has already been achieved in alignment with the Targets, and APCO fervently encourages businesses to seize this momentum as an opportunity to further enhance sustainable packaging practices. By fostering cooperation and synergy, Australia can continue its forward momentum, propelling the nation towards a more sustainable future in packaging.
Naturpac Insight
The APCO Australia national packaging targets represent a pivotal crossroads in our journey towards a more sustainable and environmentally responsible future. While these targets may seem audacious, they are not insurmountable. The packaging landscape is evolving, and with it, the way we approach sustainability and innovation. At Naturpac, we are committed to playing our part in this transformative process and have been spearheading this change well before our peers, because we know the impacts it can have for our growers.
APCO's 2025 Targets demand collective action, dedication, and collaboration from all stakeholders, including growers, retailers, brand owners, industry players, government bodies, and the wider community. This path may be challenging, but it is essential.
The fresh produce packaging industry is in the midst of a profound shift, and the seeds of change have already been sown. All in the fresh produce supply chain must continue to nurture and support the growth of sustainable practices. By working together, we can create a circular economy for packaging that minimises waste, maximises resource efficiency, and paves the way for a brighter and greener tomorrow.
Naturpac remains committed to empowering growers and retailers with the products, knowledge, tools, and support they need to navigate this transition successfully.
It is our hope that, with shared determination and focused action, we can accelerate progress toward these vital targets and create a world where sustainable packaging is not just a vision but a daily reality – and one that has minimal impact on the most important part of this industry evolution – the growers themselves.
Together, we can make a lasting impact on the future of packaging in Australia and beyond.
Naturpac, for a better earth.