Naturpac is leading the Australian and New Zealand Markets for ethical packaging, including recyclable, biodegradable and compostable packaging solutions.
As a world we are obligated to reduce plastics consumption and to find alternatives. Naturpac is working with the world's leading innovators to offer choices that are recyclable, biodegradable, and ultimately compostable.
Our brand defines the benchmark for these across three tiers. And its accompanying seal of approval gives consumers peace of mind that they are choosing packaging For a Better Earth.
Here are Naturpac we are delighted to include the Infia 100% RPET product range in our Bronze Standard packaging range.
About Infia:
Infia is a leading company in the fresh fruit and vegetable packaging sector around the world, present in five continents and in over 80 countries.
They are a pioneer in the industry when it comes to innovation of goods and services, its history dates from the late 1940s, in the heart of Romagna, where the business was developed.
From the very beginning, its production has been focused on the creation of innovative packaging that could represent an effective and winning solution to emerging requirements in packaging, protection and enhancement of fruit and vegetable produce.
Thanks to an organised sales network on all five continents and consolidated partnerships worldwide, today Infia is the leading fruit and vegetable plastic packaging producer in Europe and one of the leading producers in this sector worldwide.
During 2017, the German group Klöckner Pentaplast, working in the production of plastic films for packaging, merged with the British Linpac Group of which Infia was part, this means that today Infia is part of multinational KP present all over the world with 32 sites productive, 6,300 employees and over 2 Billion in turnover.
Infia has recently made another important breakthrough towards innovation and growth. The company has finalised the acquisition of the former "Glasspack" premises and, in doing so, the company's RPET and PET production site will expand to more than 70.000 sq. of covered area.
In over 70 years of history, Infia has always distinguished itself around the world for its continuous push towards innovation, which led it to become one of the first companies to invest in new materials such as PET.
Respect for the environment and reduction of food waste are founding values of the company's mission: the new patented side ventilation system utilised in its punnets allows produce to remain fresh longer and reduces waste, while the internal decontamination process of RPET considerably limits impact in terms of CO2 emissions.
The company's success is based on the fundamental role played by its human resources. These are the people who through their enthusiasm, expertise and strong vocation for customer satisfaction have enabled Infia to become the first group around the world to contact when looking for fresh fruit and vegetable packaging.
Infia's range of products consist of of over 1,500 items for the fruit and vegetable market, with over 3 billion pieces produced every year.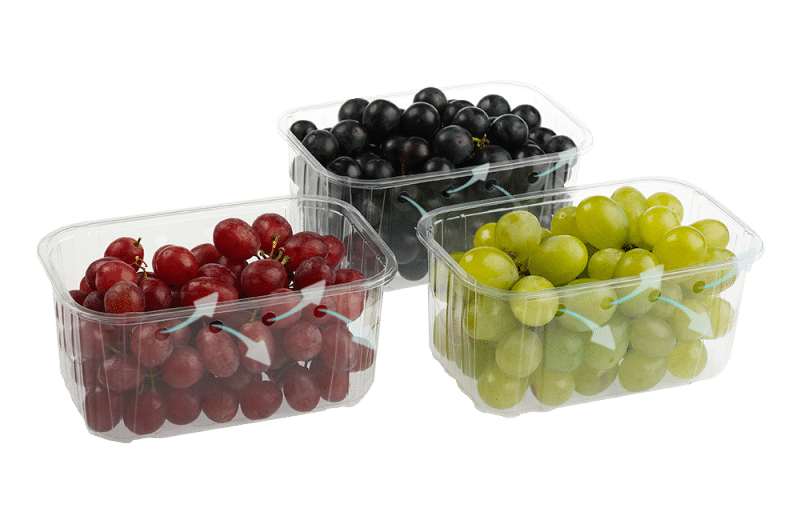 About the Infia 100% RPET range:
RPET stands for recycled polyethylene terephthalate (PET). It is a food-safe raw material made from empty PET packaging that has been collected and prepared for recycling.
Infia RPET packaging provides a type of packaging that has the same transparency and resistance as the one obtained from virgin raw material and that, at the same time, guarantees perfect sustainability at every level, dramatically reducing the environmental impact.
With more than 70 years of experience, Infia is present in almost 80 countries and has been investing for years in converting its production plants, in order to use post-consumer materials in replacement of virgin materials. Today, it is the only company in the field on the world stage, that offers recycled material supply to its customers, according to their needs and without any limit of quantity, thanks to the coverage of all its productive capacity with RPET.
As a matter of fact, Infia has concluded the authorisation process of its "Supercleaning Process" with the EFSA (European Food Safety Authority). Therefore, Infia can operate with its authorised internal recycle process in order to guarantee finished products obtained from recycled, safe and sustainable material, with benefits in terms of energy, use of the resources and gas emissions.
RPET is the latest innovation of the "INFIA 4 Earth" project. The project has been undertaken by the company in the last few years, to adjust all the business processes to the principles of sustainability, both in terms of energy savings and reduction of waste throughout the food chain, of which packaging can be a considerable support when it can combine its role as cluster with the one of protection tool for food. All of this is done by paying specific attention to the innovation of the products, both from a functional and an aesthetic point of view, always in compliance with traceability and food safety.
Why is 100% RPET safe?
It has been approved and it is compliant with the EFSA guidelines (Scientific Opinion EFSA Journal 2011;9(7):2184). [1]
It is manufactured and tested internally through cutting-edge systems and technologies.
It is validated by Infia thirty-year experience in PET.
Why is 100% RPET sustainable?
The recycling process avoids end-of-life plastics from going to the landfills or to the incinerator. It also helps decreasing greenhouse gas emissions and the use of raw materials.
In its guidelines on waste management, the European Commission puts the recycling process right after prevention and reuse, among the Community objectives to pursue in order to correctly manage post-consumer packaging. This is the general approach to implement to minimise plastic production and to maximise the recycling of materials and energies, to achieve the best overall environmental outcome.
It replaces virgin plastics, avoiding environmental impacts related to extraction and refinement.
The European Union recently adopted the Plastic Strategy, which lays the foundations to promote the circular economy, thus focusing the attention on the recycling process and on the reuse of plastic materials (Plastic Hierarchy).
We have four product types in our Infia 100% RPET range:
Trays of every size and shape for all types of fresh produce and all made from 100% R-PET. Now that is great news for the environment.
There are lids listed here that will suit every size, style and shape of punnet that you can imagine and all made of 100% R-PET.
Here's the answer for every size, style and shape of clamshell that's needed and our clamshells stay closed. And best of all, they're made of 100% R-PET so they're better for the environment.
We've got 100% R-PET punnets for every type of produce whether large or small, plus we've got punnets that actually breathe.
A Bronze Standard product:
Here in Australia, the Naturpac Bronze Standard includes an industry leading range of recyclable alternative packaging options. The Infia range is part of Naturpacs Bronze Standard packaging range, which meets the following assessment criteria:
Truly Recyclable:
Naturpac works with all industry governing bodies to ensure not only the products in its range adhere to mandates, but also that we are constantly striving to refine and improve these mandates.
Supply Chain Compatibility:
J-Tech Systems and Naturpac have over 50 years of expertise in supply packaging provision. Naturpac lines are selected based on how non disruptive and collaborative their introduction can be.
For a better earth:
Above all else, every line that is introduced into the Naturpac range must support a common goal. It must be For a Better Earth. The materials, processes, producers and partners must all be working to this common goal.
Want to learn more about Naturpac?
Naturpac are an eco friendly packaging company in NSW, Australia created by J-Tech Systems to bring a new level of farm produce sustainable packaging to the fresh produce industry. Environmental packaging and sustainable produce packaging are Naturpac's specialty with a focus on recycled packaging, recyclable packaging, biodegradable packaging and compostable packaging. They are passionate about sustainability education, especially sustainability education in schools and for children to help young consumers of today shape the world for tomorrow.
Naturpac offer a broad range of fresh produce packaging supplies that are environmentally friendly. If you are in the fresh produce industry check out their range of The Paper People, Earthcycle, and Stepac along with Sinclair Ecolabels.