EcoChoice is a program developed by the Naturpac community team designed to deliver sustainability education to young people Australia wide. Since its founding, a core pillar of Naturpac's mission has been a commitment to educating the behavioural habits of tomorrow's consumer.
Whilst everyone recognises that we need to do more to help our planet, as adults making the changes necessary requires routine and pattern behaviours that are not familiar to us.
This is why teaching children about ways they can be more sustainable and make better choices means these patterns become natural and effortless. Not only that, but learning should be FUN!
EcoChoice is all about fun and engaging ways of teaching your kids how to contribute to a better earth.
EcoPlay Sessions – Suitable for ages 5-9
EcoChoice EcoPlay sustainabillity education sessions are suitable for children aged 5 to 9 years old. They are run by an event team of Naturpac staff and former teachers who are all passionate about the environment and giving back to the community.
Each session is made up of a series of activites, games, exploration sessions, colouring in and free play using sustainable items. As the children are participating in the play sessions our event staff give tid bits of information about sustainability, talk about sustainable terms and what they mean, talk about ways of making sustainable choices such as recycling and composting.
The delivery method means the children associate play and fun with sustainability, and make it a positive experience. We do not overload with information, or have long stuffy talks, because that's not fun for anyone!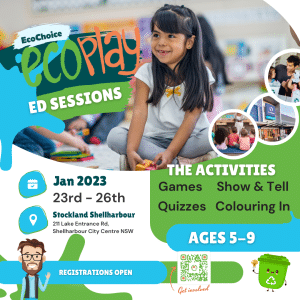 Some examples of the activities we do:
OCEAN PUZZLE: Everyone gets their own ocean puzzle and gets to put it together with the help of our event team. During this activity we talk about plastics in the ocean and ways of reducing plastics in the ocean. Children get to take the puzzle home as a reminder of what they learned
COMPOST ACTIVITY: Each child gets a small tray of compost and a compost activity sheet. We talk about what can and cannot go into a compost and identify the items in the compost. On the worksheet they can colour in, or just circle the items they find in their compost tray. (Please note compost is not actual compost – it is a pre-made combination of straw, dried rose petals, feathers, cardboard, fruit peel, tea bags, coffee beans)
SOFT OR HARD PLASTICS?: We have a series of plastics and we teach the 'scrunch test' to determine whether they are soft or hard plastics and what you do with them. We also talk about alternative craft activities that can be done with soft and hard plastics, instead of recycling or throwing into general waste.
SPACESHIP WRAPPING PAPER: We utilise recyclable and reusable packaging from Galaxy Fruits to design spaceship wrapping paper the children can take home and use for a parents, relatives or friends future birthday or occasion present.
And a series of other activities depending on the session length and location.
We provide all materials, all you have to do is show up and have fun!
COVID SAFETY: For all in person sessions we ensure play stations are sanitised between use and also ensure children use all their own materials such as colouring pencils.
WORKING WITH CHILDREN CHECKS: All our event staff have current Working With Children Checks and are experienced educators.
Free Goodie Bag!
And we can't forget the free goodie bag for attendees! Each child gets their own goodie bag with organic lollies, puzzles, games, colouring pencils, activity sheets and colouring in sheets to do at home and they can take home their certificate of completion and any of the activity sheets they completed during the session in the bag.
They can continue their own self paced sustainability education in the comfort of your home.
Upcoming Sustainability Education Sessions
We are currently only running private session.
Register for Your Own EcoChoice Sessions
Loved attending an EcoChoice event? We offer a variety of EcoChoice Sessions throughout the community ranging from short 20 minute sessions to 2 hour sessions.
If you are interested in having an EcoChoice EcoPlay or EcoLearn session delivered register your interest here: ECOCHOICE REGISTRATION FORM
We can deliver the sessions:
In primary schools
In day care centres, before and after school care centres and kingergardens
At local sports events, sports club training sessions, game days
At local community events, libraries or other council run events
At shopping centres
We can customise each session to your audience and location needs! Our friendly team can answer any questions you have.
EcoChoice Online Learning Platform
During COVID we had a very high demand for the in-person sessions to be delivered online. So we sat down with Creative Director Matthew Crouch and Community Expert Arna Jade from Soto Group to plan, design and deliver our EcoChoice sustainability education in one online platform.
The team worked for 6 months to take the basis of the education and plan it into easy to navigate modules so that children could either self guide their own learning experience, or it could be enjoyed with a parent or guardian.
There are a series of games and activities such as digital puzzles, question and answer quizzes and lots of video content. There is even a section for downloadable activities you can print and complete at home to keep kids busy during the school holidays or on weekends. The EcoChoice platform makes sustainability education fun, accessible and easy.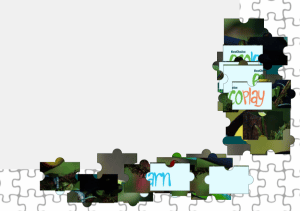 Want to learn more about Naturpac?
Naturpac are an eco friendly packaging company in regional NSW, Australia created by J-Tech Systems to bring a new level of farm produce sustainable packaging to the fresh produce industry. Environmental packaging and sustainable produce packaging are Naturpac's specialty with a focus on recycled packaging, recyclable packaging, biodegradable packaging and compostable packaging. They are passionate about sustainability education, especially sustainability education in schools and for children to help young consumers of today shape a better earth for tomorrow.
Naturpac offer a broad range of fresh produce packaging supplies that are environmentally friendly. If you are in the fresh produce industry check out their range of The Paper People, Netpak, Earthcycle, Infia and Stepac along with Sinclair Ecolabels. Their Gold Standard range of compostable packaging is recommended for many fresh produce items and are very price competitive compared with other non eco packaging solutions.
If you are a parent, teacher or community organisation wanting to learn more about the EcoChoice Online Sustainability Learning Platform or Ecoplay education sessions reach out to the friendly team at Naturpac. We offer sustainability education throughout the school holidays and have a variety of at home kids activities or indoor activities for kids that will teach them how to make sustainable choices in their future for a better earth.