Naturpac is leading the way in the Australian and New Zealand Markets for ethical packaging, with recyclable, biodegradable and compostable packaging solutions including Earthcycle, which is part of our Gold Standard packaging range.
As a world we are obligated to reduce plastics consumption and to find alternatives. Naturpac is working with the world's leading innovators to offer choices that are recyclable, biodegradable, and ultimately compostable.
Our brand defines the benchmark for these across three tiers. And its accompanying seal of approval gives consumers peace of mind that they are choosing packaging For a Better Earth.
We set the standard for change in ethical packaging. We are all on a journey towards packaging for a better earth, and that's why we offer three product ranges.
Our first product range tier is the Naturpac Bronze Standard, which includes an industry-leading range of recyclable alternative packaging options. Our second tier is the Naturpac Silver Standard which represents our biodegradable range. And our top tier, our truly compostable Gold Standard range is the goal. Long term we must all strive for compostable solutions.
Here at Naturpac we are delighted to include Earthcyle in our Gold Standard packaging range.
About Earthcycle:
Show the world your business cares. Earthcycle products present your brand and product in a sustainable platform with their Compostable Fibre Pulp Trays, Plates and Hinged Lid Containers.
Earthcycle™ is simple, natural, and down to earth. The fibre pulp trays, plates and clamshell hinged-lid containers are made from a blend of wood fibres.
Earthcycle is certified compostable, recyclable, renewable and is food grade, providing environmentally responsible packaging to suit all your needs.
Today's consumers expect packaging to be recyclable while offering ease of use. The organic consumer wants less plastic and packaging that not only is recyclable but ideally compostable too.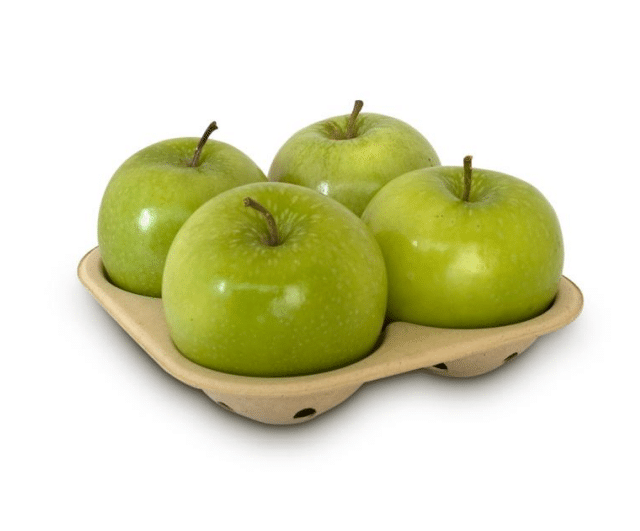 Earthcycle trays and punnets:
EarthcycleTM, offers a line of smooth moulded pulp packaging that protects and displays delicate fresh produce while speaking to consumer demands:
Made from recycled and sustainably sourced raw materials
Compostable (BPI, OK Compost, Din Certco and OK Home Compost) 
Food-grade compliant (FDA, CFIA and BFR)
Earthcycle top seal punnets:
CKF is a pioneer in the application of top seal technology to recyclable and compostable moulded pulp containers. Top seal technology combined with our EarthcycleTM punnets speaks to the consumer's desire for less plastic while provided extended shelf life benefits for fresh produce. Our punnets are designed so packers can maintain production efficiencies found with plastic – by using the same tool sets, automatic de-nesters and matching production speeds.
The same environmental benefits of Earthcycle now paired with the benefits of top seal technology:
Industry standard top dimensions
Proven shelf life extension
Meets industry standard production automation speeds
OK Compost and OK Home Compost Certified
Made with recycled and sustainably sourced wood pulp 
Earthcycle ultra white hinged lids:
Here is an opportunity for Food Service establishments to enhance the dine out offering with a premium and sustainable packaging solution. With the bright white colour, the clamshells connote fine, white tablecloth dining, elevating the experience for the customer. Made in North America from renewable resources, the pulp hinged lids are food grade compliant and are leak proof with sturdy lid closures. Pulp packaging is widely recyclable in waste paper streams, with on average 70% of all paper packaging being recycled in North America.
Key selling propositions:
• Recyclable
• White tablecloth experience
• Microwaveable
• Food grade compliant (FDA, CFIA)
Earthcycle ultra white meat and seafood trays:
EarthcycleTM ultra white protein trays offer a step above in performance and environmental credibility! The trays, produced at higher manufacturing weights, offer additional strength and longer shelf life. The bright white colour adds shelf appeal to the protein on display. The trays are widely recyclable in the paper stream. Proudly manufactured in Canada at GMP Gold Standard production facilities, the packaging complies with Heath Canada and FDA guidelines for protein packaging.
From in-store testing and usage of Earthcycle trays, retailers have found that the Earthcycle trays perform best under the following conditions:
Packaging for all types of meats and seafood
Meat packaging performance is optimised for high traffic locations
Shelf performance optimised when used with a soaker pad
When packaging seafood, trays can last for up to 5 days with a soaker pad
Use of an environmental label/sticker and/or shelf talker to call out that the trays are widely recyclable in the waste paper stream
A Gold Standard product:
Here in Australia, the Naturpac Gold Standard is the goal. Long term we must all strive for compostable solutions. Earthcycle Palm Fibre Trays are part of Naturpacs Gold Standard packaging range, which meets the following assessment criteria:
Truly Compostable:
Naturpac works with all industry governing bodies to ensure not only the products in its range adhere to mandates, but also that we are constantly striving to refine and improve these mandates.
Supply Chain Compatibility:
J-Tech Systems and Naturpac have over 50 years of expertise in supply packaging provision. Naturpac lines are selected based on how non disruptive and collaborative their introduction can be.
For a better earth:
Above all else, every line that is introduced into the Naturpac range must support a common goal. It must be For a Better Earth. The materials, processes, producers and partners must all be working to this common goal.
Want to learn more about Naturpac?
Naturpac are an eco friendly packaging company in NSW, Australia created by J-Tech Systems to bring a new level of farm produce sustainable packaging to the fresh produce industry. Environmental packaging and sustainable produce packaging are Naturpac's specialty with a focus on recycled packaging, recyclable packaging, biodegradable packaging and compostable packaging. We are passionate about sustainability education, especially sustainability education in schools and for children to help young consumers of today shape the world for tomorrow.
Naturpac offer a broad range of fresh produce packaging supplies that are environmentally friendly. If you are in the fresh produce industry check out our range of The Paper People, Netpack, Infia, Stepac and Sinclair EcoLabels.